Buying a new garage door isn't an impulse decision. Most homeowners talk with Action Door for functional and aesthetically pleasing choices. Replacing a garage door can be a good investment to your home's value and curb appeal. However, there are several questions you should ask yourself before making the decision to purchase a new garage door.
Do I need a new garage door?
The reality is, wooden garage doors tend to deteriorate over time and metal doors will dent and damage. If you're garage door is old and has excessive wear and tear, replacing it with a new garage door is necessary.
If you're garage door only has broken hardware, such as the track or springs, consider having a professional come out to repair your door. This could extend the life of your garage door and save you money.
What kind of garage door do I need?
Once you've decided that a new garage door installation is needed, you need to decide what kind of door you need. Depending on your style and design, the most common materials available are wooden, steel, or aluminium garage doors. Each type of garage door has their own benefits and level of maintenance required.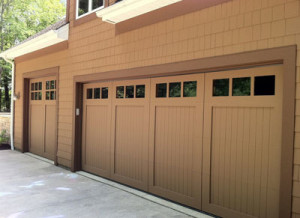 You can also choose the style of your door. Garage door styles include carriage house, traditional, contemporary or a custom garage door. There are also different options available including windows, paint, and stain type. You want to choose a style that fits the look and feel of your home and fits into your budget and maintenance abilities.
Do I need an insulated garage door?
What are you using your garage for? Does your garage need to be climate controlled? Is your garage attached to your home? If your garage is used primarily for outdoor equipment and tools or isn't attached to your home, then investing in an non-insulated garage door is the best choice. Non-insulated garage doors are less expensive compared to insulated and custom doors.
If your garage is attached to your home or is used for store items that need to be in a climate controlled area, then an insulated garage door is necessary. Insulated garage doors are more energy efficient, especially in colder climates. If your garage is below a bedroom in your home, an insulated door can help save on the cost of heating and cooling your home. Insulated garage doors also tend to be more durable and less noisy than a non-insulated door. Investing in an insulated door can save you money over the life of your garage and home.
Will my garage door have a warranty?
Before purchasing a garage door, educate yourself on the warranty offered with your door. Garage door warranties vary depending on the manufacturer, so it's important to know what your warranty covers and how long you're covered for. Some warranties only cover defective parts and only cover a certain amount of time. Others may offer a lifetime warranty, but only for the original owner. You may have to purchase a warranty separate from the cost of your garage door. These are all questions and concerns that need to be addressed before you purchase a garage door.
Do I need a garage door opener, too?
If your garage door opener is in proper working condition then replacing it with a new one wouldn't be necessary. Be sure that your new garage door doesn't exceed the weight limit of your current garage door opener limits. If your new garage door is too heavy, your opener may not be able to support the extra weight and a new door opener would be required. This situation can be avoided by choosing a material that is similar to your old garage door.
Ready to upgrade your old garage door? Action Door is a leader in garage door repair and new garage door installation in Northeast Ohio. Get a free estimate today and add value and curb appeal to your home.