The garage door has become a very important focal point and curb appeal of a house. With so many styles, colors, and materials, picking the right garage door for your home can seem like a daunting task. Action Door wants to make it easier for you by giving you tips about different garage door materials and the style, durability, efficiency, and maintenance of each.
Choosing a material that makes sense
Garage doors are not just for show. They obviously hold an important function, but they can also significantly impact on of your home when it comes to efficiency, maintenance, and durability. It's important to pick the right material that improves the look and value of your home.
Steel
Steel garage doors are among the most common material used. Steel garage doors are cost effective, and are very low maintenance. However, if you live in Northeast Ohio, it's important to know that steel is not a good insulator. Steel can impact the efficiency of your home, so make sure to get an insulated steel garage door, especially if you live in climate with a large range of temperature change. Steel can be durable as far as it's lifespan of hardware and parts but steel doesn't stand up as well against dents and dings as wood or vinyl.
Aluminum
Aluminum garage doors are also inexpensive and can be a good option for double garage doors. Because aluminum is lightweight, this takes pressure off of the operating hardware and can expand the life of garage door parts. They're also prone to dents and need to be insulated. Aluminum garage doors are easy and inexpensive to maintain, which makes it a good, middle of the road choice for a sturdy garage door.
Wood
Unlike steel and aluminum, wood is a much better insulator and can give your home a very custom and homey look. However, wood garage doors tend to have more maintenance than metal doors and need to be painted or stained every few years. This is partly due to direct sunlight,as well as natural wear and tear from the weather, causing the paint to fade and chip.
Vinyl
Garage doors made from vinyl are extremely durable and hold up against dents and won't rust or rot. Vinyl garage doors are lightweight and are extremely cost effective. Vinyl doesn't insulate well so it's important to get an insulated vinyl garage door if you live in areas that see a wide variety of temperatures or a place that is noisey. It's important to choose a vinyl door in person to ensure that it doesn't have a plastic look or feel. Custom vinyl garage doors ensure that you're getting exactly what color and style you want.
Choose a style that fits
Just as important as the material for your garage door is the style. While having a custom garage door is important to the look of your house, here are some basic styles to get you started.
Carriage House Style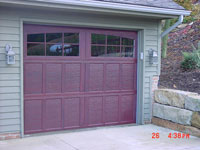 For an old-world charm feel, carriage house garage doors offer homeowners a traditional look combined with modern technology. You have the option of adding decorative windows to this design and customize it to fit your style. Keep in mind extra maintenance for windows that may break and need replaced. These kinds of doors can roll up like a traditional garage door or swing out, giving your home a very unique and distinct look.
Contemporary
If your home is truly contemporary, choose a garage door that has clean lines and modern look. These kind of garage doors are typically made out of aluminum and glass and come in a variety of finishes to compliment your home's look and feel. Glass panels can also be customized for privacy including tinted and obscure styles.
Traditional and Classic
For a simpler design, traditional and classic garage doors are typically made out of steel with several simple panel designs to choose from. These traditional garage doors offer a wide variety of different window designed that is low maintenance and durable. Traditional garage door styles have a classic sectional roll up mechanism, making it easy to maintain and repair if needed.
Customize your style
For a truly customized look for your home, design a custom garage door from Action Door. Action Door is Northeast Ohio leaders in custom garage door installation and repair. Proud partners with Wayne Dalton garage doors to provide customers with a truly customized look to add value to their home. Get a free estimate today and upgrade your home's look.