Automatic garage doors offer a huge convenience for dodging bad weather. One click of a button and you and your family avoid the cold, rain and other potential dangers of mother nature. But what happens when the power goes out and your car is either stuck inside or left out in the elements? Did you know that you can operate your garage door when there is no power? It's important to know how to operate your garage door manually when you find yourself in a power outage. Here are some things to remember about opening your garage door manually.
Releasing the trigger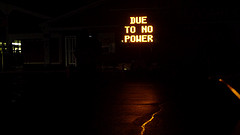 The majority of automatic garage doors have a manual release to control your door when there is no power. This is usually a long red rope that hangs from the track of your door. Pulling this red rope will release the trolley from the garage door track and enable you to use your door manually. It's important to make sure the garage door is down when releasing the trigger. Since this releases the door from the track, it may come crashing down if open.
Once the trigger is released, now you can manually push your garage door up and down. If you garage door doesn't appear to have a release cord, refer to the manual for instructions on how to disengage the automatic features.
Manual mode during a prolonged power outage
If there is a need to keep your garage door in manual mode for a long period of time, it's important to know the safety features that come with your garage door.
Manually lock your garage door
Most doors have a manual locking system, usually a large handle in the middle of the garage. Since your garage door is being operated manually, it's easy to open and close it. So if it's easy for you, it's easy for unwanted people to gain access to your garage and home. The manual lock ensures that no one on the outside of the garage can get in until it's manually unlocked from the inside.
Reattaching your garage door
Once power has been restored to your home, you'll want to re-engage your garage door's automatic features. Pull down on the red cord and pull it towards the opening of the garage door. Pull up on the door until it you hear a snap and see it lock back into place. You can also hit the button on your garage door opener and the track will force the spring back in place, reattaching your door to the trolley.
If you notice that there are broken parts on your garage door, bent springs or other damaged parts, do not attempt to release your garage door manually. This might cause more severe problems and a potentially dangerous situation. Garage door repair will be needed to get your door back in working order. Action Door proudly serves Northeast Ohio for all garage door repair needs, especially in emergency situations. We offer 24/7 emergency service to Cleveland, Akron, Canton, Youngstown and other areas in Northeast Ohio. Get a free estimate for garage door repair service today.