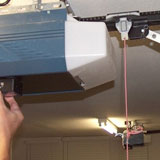 Do You Have a Loud Garage Door?
Automatic garage doors are a complex piece of machinery, so when you're dealing with a noisy or loud garage door, there are several different factors to consider. Noisy garage doors are likely due to the whole garage door system and not just the garage door opener. Here are some tips on how to identify and diagnose your noisy garage door.
Lubricate Metal Parts on Your Garage Door
Living in Cleveland, Ohio and the nearby Northeast Ohio area, it's important to prepare you home for the different seasons. Action Door understands these preparations are for your garage and your garage door too. Metal parts of garage doors need to stay lubricated to function and reduce the noise of a loud garage door. Rollers, hinges, springs, and tracks can make a loud squeaking noise if not properly lubricated. Use a lubricant like motor oil or WD40 and apply liberally every 6 months – before winter and summer. If your garage door has nylon rollers, avoid getting oil on the nylon part of the roller and be sure to wipe off excess oil with an old rag. Checking metal parts on your garage door can significantly reduce the noise and extend it's life too.
Tighten Nuts and Bolts
As the season's change in Cleveland, Ohio parts of your garage door will expand or contract which looses the nuts and bolts. Your garage door has hundreds of different screws, fasteners, nuts, and bolts. Daily operation of your door can cause any one of them to loosen, causing a noisy garage door. When trying to diagnose a loud door, check and tighten all of the hardware. A loose screw can be an easy fix to your load and distributive garage door. For easy DIY instruction, take a look at The Family Handyman's post on tightening garage door parts.
Inspect Garage Door Rollers
Another common reason your a squeaky garage door is the roller system. Standard garage doors typically have 5 to 6 metal or nylon rollers on each side of the tracks. When inspecting rollers, they should roll and not slide when operating. If rollers appear to be worn or damaged, they will need to be  repaired or replaced.
Inspect the Garage Door Tracks
Garage door tracks can often collect dirt and debris and could be causing your garage door's louder than normal noise. Inspect the track and clear any visible debris and objects that could get caught on the rollers. A simple brushing with a broom or using a hose to spray the tracks should be fine.
Garage Door Opener
If you have inspected and lubricated your garage door and it's still noisy, the problem could be with your garage door opener. A garage door opener typically lasts 10 – 15 years depending on how well you maintain and service it. When your garage door motor is noisy, it can be a sign of aging and likely needs to be replaced. To determine if you need to replace your motor to quite a loud garage door, contact Action Door for a free consultation.
What a Garage Door Expert Can Do
When you have exhausted all of the possible reasons for your noisy or loud garage door, it's time to call Action Door. Garage door repair experts can service or replace:
Rollers
Hinges
Torsion springs
Garage door motors
Door panels
Realign tracks and more
Action Door is proud to serve Cleveland, Ohio and the nearby Northeast Ohio area with unmatched customer service and garage door repair. Action Door always recommend professional installation and repair of your existing garage door to ensure your safety and the integrity of your door. If your garage door is loud or noisy and you have done a basic check of hardware and rollers, let Action Door take care of the rest. Request residential garage door service today and eliminate your loud garage door.